I have to admit: I absolutely love Kinsta for hosting. I recommend it over hosts like WPE, SiteGround, and Flywheel.
Now you may be asking… why?
Kinsta vs WPE
I will concede that WPE is far cheaper than Kinsta. However, two things stand apart for Kinsta over WPE:
Lightning fast and competent support
A highly intuitive control panel even my clients can understand
Easy backups access and no-brainer staging sites
Kinsta's starter plan is 5-sites for their base plan and will set you back about $100 a month. Need 6 sites? You need to go up to $200 a month. This is the only thing I hate about Kinsta. I truly wish they had a la carte pricing for, say, one more site rather than paying an extra $100 a month if I go over.
WPE is a bit more generous. In contrast to Kinsta, WPE offers about 10 sites for about $100 a month.
So why pick Kinsta over WPE? Simply, from my experience: speed, support, and ease-of-use.
It seems WPE likes to change up their UI periodically, and each time I log in, something changes and I have to dig for it.
WPE support is "okay." I've waited up to 30 minutes for live-chat support from WPE, and Kinsta's wait is roughly 5-10 minutes on a bad day.
With WPE, I have to contact support for what I consider mundane things. Kinsta is more of a do-it-yourself type host and gets out of your way.
Kinsta vs Flywheel
I tried Flywheel based on a recommendation. It's super easy to migrate to, and it promises world-class speed and support.
The only positive thing I can say about Flywheel is that it looks pretty.
I'm no optimization expert, so please don't cringe at my grades, but here is a quick speed test report for Kinsta vs Flywheel hosting using the same site.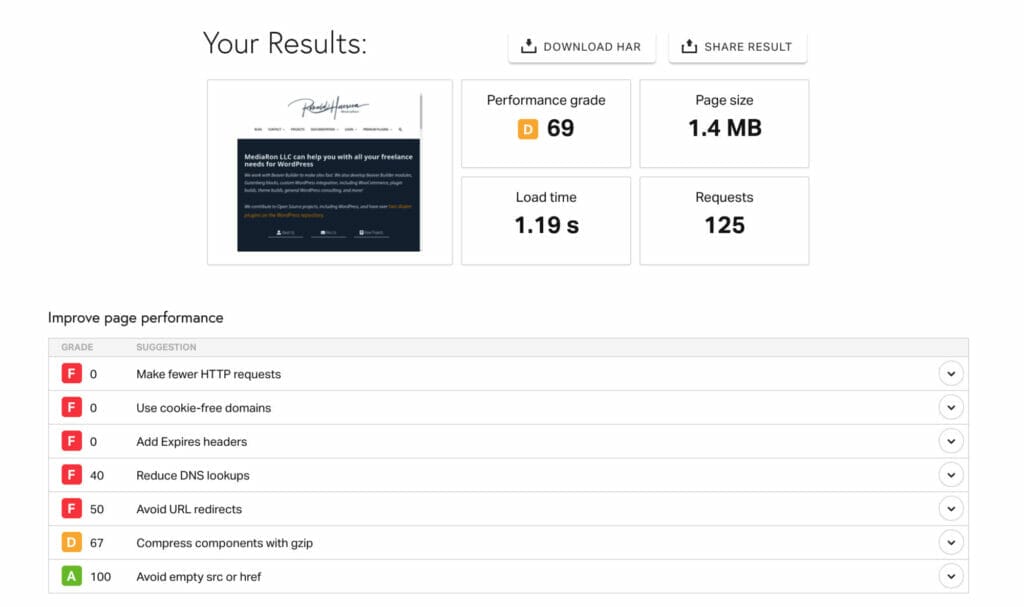 Ignoring all the red (please), Kinsta typically loads for me in less than 2 seconds on desktop. Let's contrast this to Flywheel.
Look at the load time. Eek.
Here's another test I ran on one of my client's sites.
And here is Flywheel, on the same site:
There's just simply no comparison.
Servebolt
I was reluctant to try another host obviously after my experiences with WPE and Flywheel. But after seeing their promises for speed, I had to try for myself.
As you can see in the above example, my non-optimized site rendered in less than a second. This is the fastest I've ever seen my site load.
On top of that, the WP admin for both WPE, Flywheel, and Kinsta can be super slow. I didn't experience this on Servebolt.
Servebolt's customer portal is far from intuitive, but once you start playing around, it starts making more sense. If anything, their portal is not something I would recommend for clients to use as it's highly confusing.
Servebolt Pricing
Servebolt is arguably more expensive than WPE, Flywheel, and Kinsta. I'm on their 2nd tier plan ($70 a month), which only allows 2GB of storage, but since it's stored on SSDs, it's super fast.
And they offer the traditional perks such as backups, support (which is stellar), and real-time monitoring.
So Which Host Do You Recommend?
This is hard to say. Hosts come and go. Every host promises speed. But my recent experience shows me:
Choose WPE for speedy sites for simple to advanced clients.
Choose Flywheel if you like pretty stuff. Otherwise, avoid.
Choose Kinsta for a highly intuitive admin panel, fast support, and speed.
Choose Servebolt if you don't have a lot of storage and want ultra-fast sites.
I admit this is an unscientific analysis, but if my clients could afford it, I would drop them on Servebolt in a heart-second. Otherwise, I choose Kinsta.
Thanks for reading.