WP Plugin Info Card Advanced Queries
Since WP Plugin Info Card 2.5, you can now use the new wp-pic-query shortcode to perform query like on the WordPress.org repository or in your admin area. This shortcode uses the same shortcode parameters as the original one (wp-pic), but you can use extra parameters to filter out what you need. Plugins or themes by author, by tags, by user favorites, etc.
The shortcode will render a list of cards based on the style you choose.
How to use the WPPIC query shortcode
Here is the new shortcode parameters – added in 2.5
search: A search term. Default empty.
tag: Tag to filter themes/plugins. Comma-separated list. Default empty.
author: Username of an author to filter themes/plugins. Default empty.
user: Username to query for their favorites. Default empty.
browse: Browse view: 'featured', 'popular', 'updated', 'favorites'.
per_page: Number of themes/plugins per query (page). Default 24.
cols: Columns layout to use: '2', '3'. Default empty (none).
---
Gutenberg
As of version 3.1.0, there is a Gutenberg option that supports all query parameters.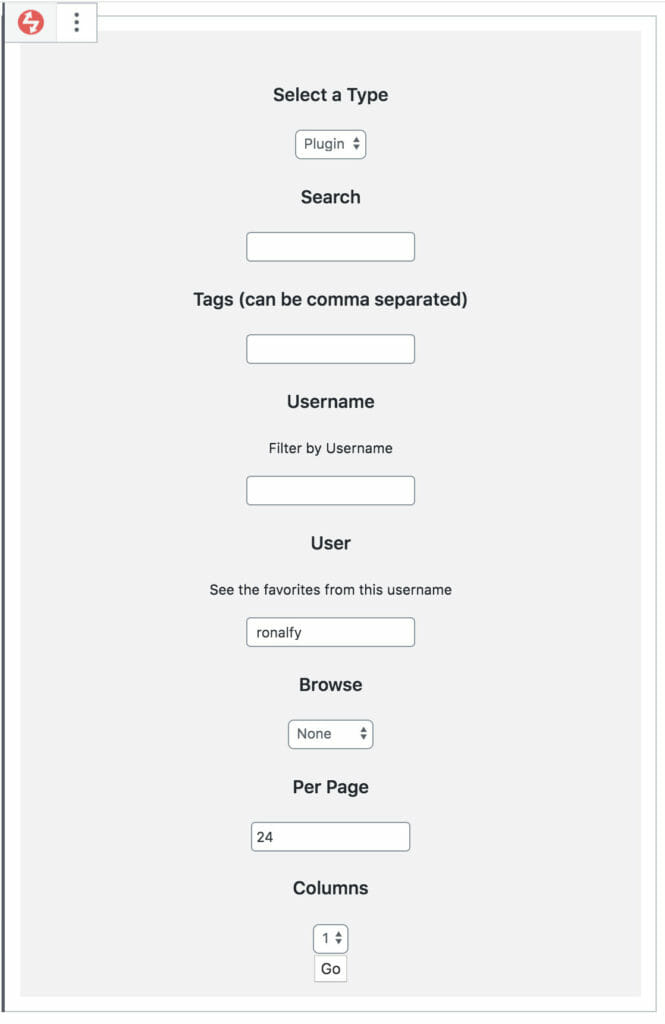 Example Gutenberg Output
You are welcome to use the shortcodes or the Gutenberg block.
Shortcode Examples
Shortcodes are useful if you are using a Page Builder or prefer not to use the blocks that come with WP Plugin Info Card.
[wp-pic-query author=

"automattic"

 per_page=

"6"

 type=

"plugin"

 layout=

"wordpress"

 align=

"center"

 ajax=

"yes"

 cols=

"2"

]

Code language:

 

JSON / JSON with Comments

 

(

json

)
[wp-pic-query user=

"briKou"

 per_page=

"4"

 type=

"plugin"

 layout=

"wordpress"

 align=

"center"

 ajax=

"yes"

 cols=

"2"

]

Code language:

 

JSON / JSON with Comments

 

(

json

)
[wp-pic-query browse=

"popular"

 per_page=

"6"

 type=

"plugin"

 layout=

"card"

 margin=

"1rem"

 ajax=

"yes"

 cols=

"2"

]

Code language:

 

JSON / JSON with Comments

 

(

json

)
[wp-pic-query author=

"wordpressdotorg"

 per_page=

"2"

 type=

"theme"

 layout=

"card"

 align=

"center"

 clear=

"after"

 ajax=

"yes"

 cols=

"2"

]

Code language:

 

JSON / JSON with Comments

 

(

json

)
[wp-pic-query tag=

"dark,four-columns"

 per_page=

"4"

 type=

"theme"

 layout=

"wordpress"

 align=

"center"

 ajax=

"yes"

 cols=

"2"

]

Code language:

 

JSON / JSON with Comments

 

(

json

)
[wp-pic-query tag=

"buddypress"

 per_page=

"2"

 type=

"theme"

 layout=

"large"

 align=

"center"

 align=

"center"

]

Code language:

 

JSON / JSON with Comments

 

(

json

)
[wp-pic-query author=

"wordpressdotorg"

 per_page=

"4"

 type=

"theme"

 layout=

"flex"

 align=

"full"

 clear=

"after"

 ajax=

"yes"

 cols=

"2"

]

Code language:

 

JSON / JSON with Comments

 

(

json

)